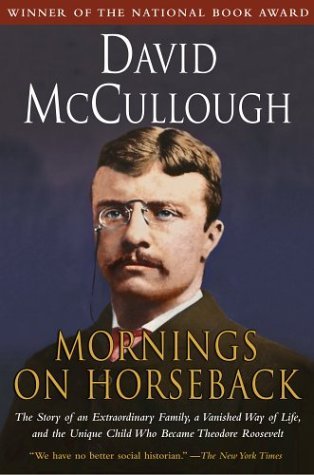 The fact that I make a list every year is, I think, a useful exercise. But I'm always amazed to get sidetracked by seemingly random, yet perfectly timed, discoveries. Two such books are now on the list.
Mornings on Horseback is David McCullough's prize-winning and best-selling book about the early life of Theodore Roosevelt. I've always been fascinated by TR, and have resonated with his sayings, but I had never read anything substantive about him. McCullough's book paints a fascinating picture of the boy who would be President. Along the way, I think he gives us a glimpse of the perils and power of fatherhood, and of what it takes to forge an identity.
A headmaster friend recommended Leading with a Limp by Dan Allender. So far, it's not an easy book to read, but it has resonated with my experiences in school leadership over the past decade or so.
Completely random list this year, except that I'm reading a lot about beauty. I expect to read more, but am really hoping to finish the list this year. Finished. Reading now.
DEVOTIONAL/DISCIPLESHIP, ETC.
A Long Obedience (Peterson)
The Good and Beautiful Life (Smith)
Living the Sabbath (finish, Wirzba)
Questions for Ecclesiastes (Jarman)
Everywhere Present (Freeman)
EDUCATION
Philology (Turner)
Education for Human Flourishing (Loomis)
HISTORY/BIOGRAPHY
A Distant Mirror (Tuchman)
Until the Last Trumpet Sounds (Smith)
Bonhoeffer (Metaxas)
PHILOSOPHY/THEOLOGY (esp. on Beauty)
Beauty of the Infinite (Hart; yes, again)
Beauty Will Save the World (Wolfe)
The Relevance of the Beautiful (Gadamer)
On Beauty and Being Just (Scarry)
Beauty: A Very Short Introduction (Scruton)
Awakening Wonder: A Classical Guide to Truth, Goodness, and Beauty (Turley)
On the Good Life (Cicero)
The World Outside Your Head (Crawford)
POETRY/FICTION/LITERARY STUDIES
How Dante Can Save Your Life (Dreher)
The Nightingale (Hannah)
The Fifth Heart (Simmons)
If On A Winter's Night a Traveler (Calvino)
Silence (Endo)
Complete Poetry of George Herbert (Herbert)
Descent into Hell (Williams)
MISCELLANEOUS
Antifragile (Taleb)
EXTRAS
The Fellowship (Zaleski & Zaleski)
The Guernsey Literary & Potato Peel Pie Society (Shaffer/Barrows)
When Athens Met Jerusalem (Reynolds)
Harry Potter and the Sorcerer's Stone
Harry Potter and the Chamber of Secrets
Harry Potter and the Prisoner of Azkaban
Harry Potter and the Goblet of Fire
Delights and Shadows (Ted Kooser)
Harry Potter and the Order of the Phoenix
Mornings on Horseback (David McCullough)
Jayber Crow (Wendell Berry)
Leading with a Limp (Dan Allender)
Harry Potter and the Half-Blood Prince
Sacred Rhythms (Ruth Haley Barton)